Turn-key service
Buitendijk Techniek B.V. offers a complete crane/gangway upgrade and conversion service, for our own equipment as well as that of other manufacturers. Redesign and fabrication follow detailed structure analysis, resulting in a good-as-new unit to meet new challenges, fully tested end verified.
Refurbishment, modifications, lifetime extension (LE) schemes will be specifically developed for each client, type of crane or gangway, type of application and regarding circumstances. Buitendijk Techniek B.V. has the capability to realize projects on a turn-key basis.
Buitendijk Techniek B.V. can provide various refurbishment programs, i.e.:
Life-time extension (complete crane/gangway);
Replacement of components to ensure availability;
Reduce maintenance costs and requirements;
Upgrade of capacity or operating envelope;
Comply with current legislation;
Increase reliability;
Modifications;
Ergonomics.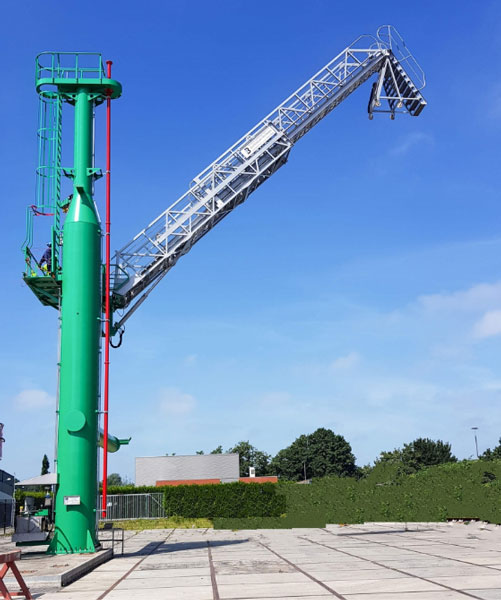 Do you have questions?
Let us call you back
Buitendijk Techniek is well experienced in explosion proof installations build according National, European (Cenelec/ATEX) and American (NEC / UL-codes/ATEX) standards and thus will be able to deliver equipment for off-shore, ships and petro-chemical plants, where above mentioned standards are applicable. Also our EX equipment can be delivered with EX radiographic remote control or the required classification.
Any refurbishment or life time extension is carried out with Buitendijk qualified equipment. 
As Original Equipment Manufacturer, we can guarantee the installed replacement parts and renovation or modification work. 
We can assure you that the lifetime of the equipment will be increased considerably when the advised recommendations are carried out. Needless to say, it is very important for you to have optimal reliability and safety of your access equipment and cranes – at minimum costs. We trust you agree that an optimal condition will avoid unexpected breakdowns of essential elements which would cause delays in your daily operations.