1950: Start of Buitendijk Techniek B.V.
From our head office in Dordrecht, The Netherlands – nearby the Port of Rotterdam – we started gathering a broad experience in constructing all kinds of steel structures, from simple steel components up to the most complex constructions for different kind of onshore and offshore projects. Through the years, these activities were extended with engineering and production of machinery, like manipulators for welding industry and other machine tools.
1987: Acquisition of SHF Cranes Schiedam
Buitendijk Techniek took over this crane company for which numerous of pedestals, crane foundations and steel construction projects were already executed. From this day on, the design and production of all types of SHF cranes continued and were added to the Buitendijk Techniek portfolio.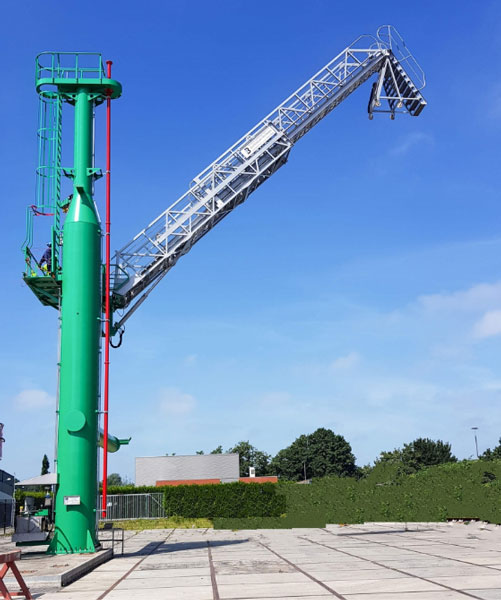 1988: Next step - Design, fabrication and installation of Hose Towers
From cranes to cranes on marine jetties. With the port of Rotterdam around the corner, we were asked to install our cranes on the first Hose Towers in the port of Rotterdam. The invitation to assist in the development of complete Multi Product Hose Towers for a client in Saudi Arabia followed soon after accomplishment in Rotterdam. In the past few years we have successfully participated in the design, engineering, procurement, installation and commissioning of several hose towers.
1999: Start of Gangway Solutions
In line with the development of our company, Buitendijk Techniek started to develop Access Gangway Systems, which has become our core business today. From 2020, we market our gangways as Gangway Solutions. Our success in this field can be concluded out of our projects which are delivered through innovative designs and tailor-made solutions. We are delighted that our clients all over the world are enthusiast about our work and content to have found a supplier who really thinks along.