Buitendijk Techniek B.V. Dordrecht, was established in 1950 and since then gathered a broad experience in constructing all kinds of steel structures, from simple steel components up to the most complex constructions for different kinds of projects for onshore as well as offshore market. Later, these activities were extended with engineering and production of machinery, like manipulators for welding industry and other machine tools.
SHF cranes, custom design for custom demands
In 1987 Buitendijk Techniek took over "SHF Cranes Schiedam" for which numerous of pedestals, crane foundations and steel constructions projects were already executed. From this day the design and production of all types of SHF cranes continued and were added to the Buitendijk Techniek portfolio. Explosion proof cranes are manufactured for the oil and gas market, the chemical and petro-chemical industry, stationary and travelling portal cranes for the marine industry.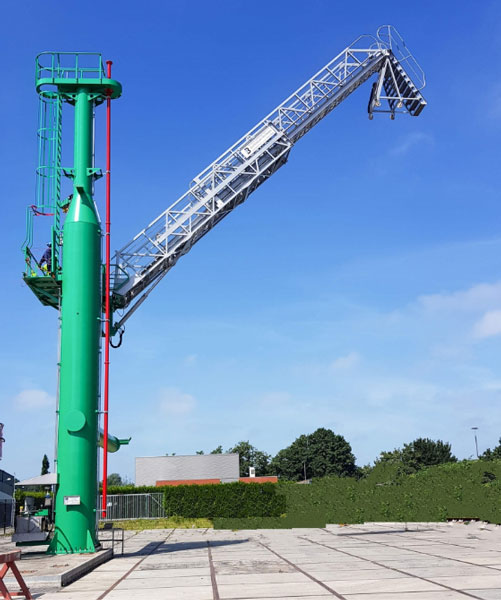 Gangway systems: custom design for custom demands
In 1999 Buitendijk started to develop Access Gangway Systems, which has become our core business today. Our success in this field can be concluded out of our projects which are delivered and through the innovative design and solutions. Worldwide our clients are very enthusiast and are content to have found a supplier who really is willing to think along.
Hose towers: custom design for custom demands
Since 1988 we are involved in cranes on marine jetties. These cranes are mainly used for hose handling and sometime for handling stores. Of course all these cranes are in explosion proof execution (ATEX, IECEx or UL).  Our cranes were installed on the first Hose Towers in Rotterdam Port and in Saudi Arabia. Later we received invitation from another Saudi client to assist in the development of complete Multi Product Hose Towers. During the last years we have been successfully participated in the design, engineering, procurement and installation and commissioning of several Hose Towers.
From day in one till today Buitendijk Techniek pays close attention that:
Each construction detail, each weld and each connection meets our highest standard.
All our products are built rigid and exceed latest requirement standards.
At our Dordrecht location we are equipped with modern production and testing facilities, so all new products can be constructed under optimized shop-conditions and inspected and tested and when requested, certified by any classification authority.
Every project is well documented, so the best service can be provided. 
Our location has direct access to international port facilities.
All our product can be executed explosion proof executed, according ATEX, IECEx or UL 
More than 70 years of dedication and experience makes
Buitendijk Techniek Your Partner of Choice